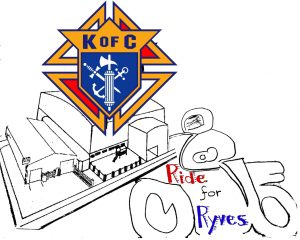 RIDE FOR RYVES 2017
Join us on September 9th, 2017 as we "Ride for Ryves." Help us sponsor youth for the wonderful programs provided at the Ryves Youth Center, which is a safe-haven which fosters a positive sense of self-worth through programs that promote physical, educational and social development for the youth of our communities.
RIDERS CLICK HERE
SPONSORS CLICK HERE
CAN"T RIDE BUT WANT TO HELP CLICK HERE
We're looking to sponsor as many children as possible for the programs at Ryves. $310 provides a year's worth of evening meals, tutoring and recreational activities for a child to succeed in life and have hope for a better future.
· Nearly 1,400 youth participate in activities at Ryves Youth Center each year.
  Create hope in a child's life.
  Help a child recognize their value.
  Help a child develop the skills needed to succeed in life.
  Create hope for a better future.
Riders, we'll begin at St. Margaret Mary Catholic Church, which is located at 7th & Voohres in Terre Haute. Registration will begin from 10:30 – 11:45 am with last kickstand up heading out on the ride at 12 noon. Total time of the ride will be approximately 3 hours, with a midpoint break tentatively scheduled at Up the Creek near Turkey Run State Park. We'll end the ride at Cannonball Harley-Davidson on South US Hwy 41 in Terre Haute where we'll be serving you up some complimentary burgers and hot dogs.
Riders – Just $25 or $40 if you have a passenger.
Sponsorship opportunities are available
Title Sponsor – $2500
Platinum Level Sponsor – $1000
Gold Level Sponsor – $500
Silver Level Sponsor – $250
Bronze Level Sponsor – $50
Contact Bret Ridgway at info@THKofC541.com if you're interested in sponsorship for building a better future for our youth.
Checks may be mailed to:
Knights of Columbus
PO Box 7062
Terre Haute, IN  47802
If riding or sponsoring, please to be sure to include your contact information including email address so we can reach out to you if necessary.