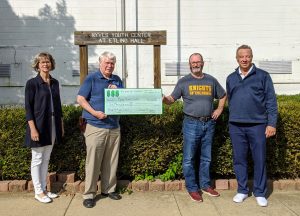 Grand Knight Bret Ridgway presents Jim Edwards, Director
of Ryves Youth Center with a donation of $6000. Flanking are
Jennifer Buell and John Etling of Catholic Charities.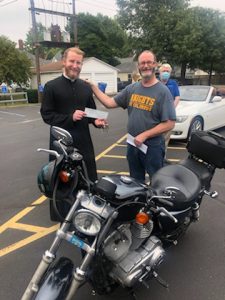 Grand Knight Bret Ridgway presents Father Dan Bedel
of St. Margaret Mary parish with a $500 donation to
replace the candles and holders used during Mass.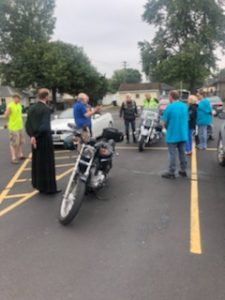 Jim Edwards of Ryves Youth Center speaks with
the riders for the 2020 Ride 4 Ryves. Over $6000
was raised during the event for the center.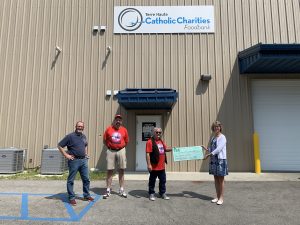 Knights Bret Ridgway and Bob Flott joined Jimmy Hollingsworth
of Musicians Give Back and Jennifer Buell of Catholic Charities
to present a $3000 donation from the Foodstock 2020 Event.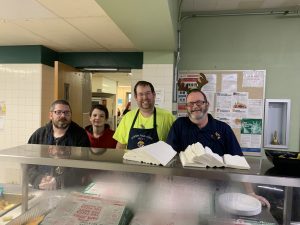 Knights Jason Cooper, Sean Cramer and Bret
Ridgway along with Jason's son served up
pizza at the annual Gibault Christmas Party.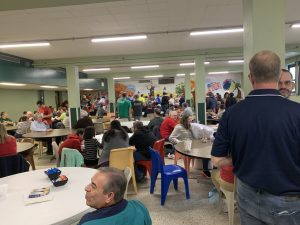 A good crowd of Knights and their family members
turned up from around the state for the Gibault
Christmas Party.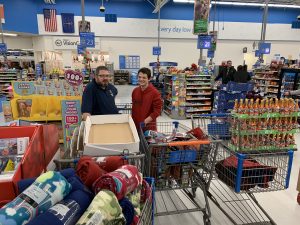 Jason Cooper and son Dakota helped with the
gift shopping for the children at Gibault.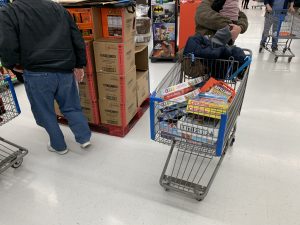 Just some of the games purchased for the Gibault
Christmas Party.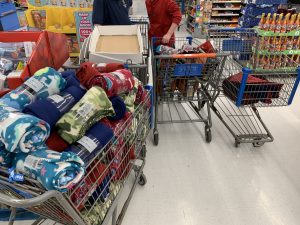 Among their gifts each child at Gibault received
a fleece blanket.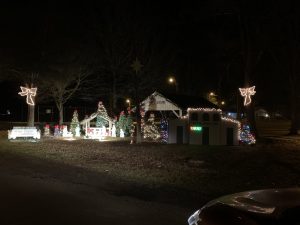 The Knight's annual Christmas in the Park display
spreading our "Keep Christ in Christmas" message.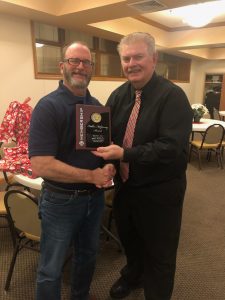 District Deputy George Knezevich (right) presents
Council #541 Grand Knight Bret Ridgway with the
Father McGivney Award.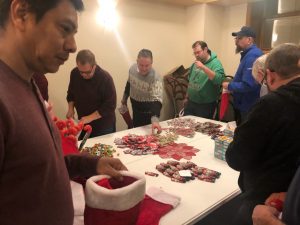 The Knights helped stuff stockings for the children
at Gibault at the 2019 Christmas Party.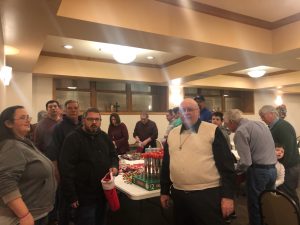 Family members of the Knights also stepped
in to help out with stocking stuffing.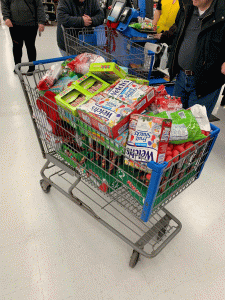 Stocking up with stocking stuffers for the children at
Gibault who don't get to go home for Christmas.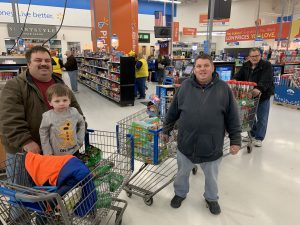 Knights Phil Brown, Mike Brown and Mike Sternal
joined David Gorrell and Bret Ridgway for candy
shopping at Walmart for the children at Gibault.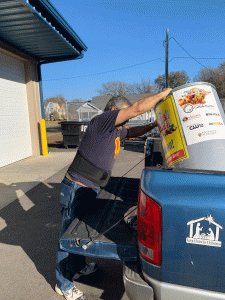 Knight Michael Martell helps unload one of the many
barrels collected for the Catholic Charities' Share Your
Thanksgiving food drive. Overall, 9,762 pounds of food
were collected for those in need.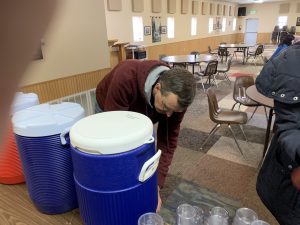 Knight John O'Connor helped grill hamburgers and hot dogs
and served drinks at the St. Joseph University Parish Awakenings
Retreat for college students.

Sir Knights (from left to right) George Knezevich,
Mark Monahan, Bret Ridgway and Bob Flott served
as escorts for the families at the November 4th Mass
of Remembrance at St. Joseph University Parish.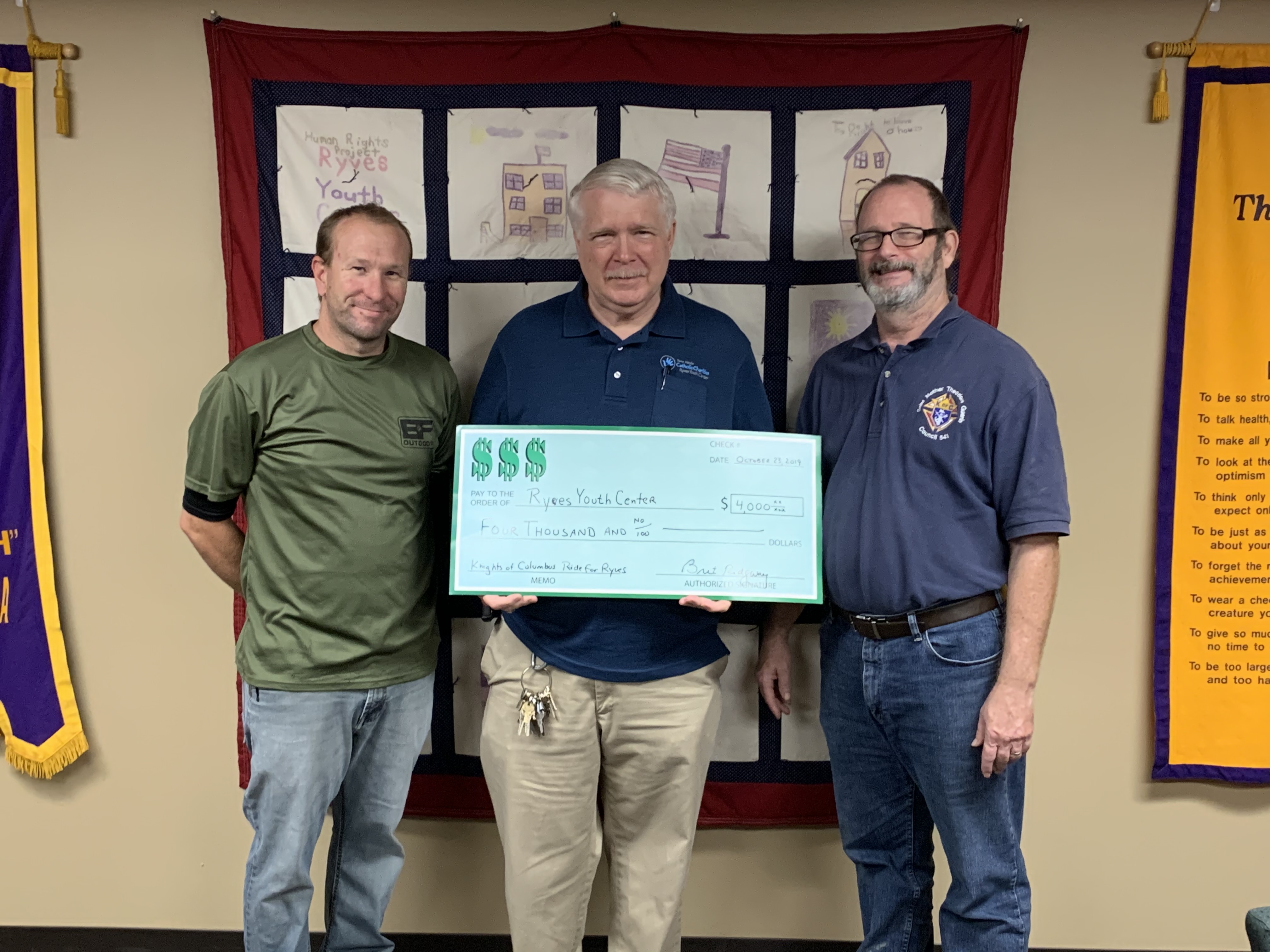 Knights Chad Roach (l) and Bret Ridgway (r) present
Jim Edwards of Ryves Youth Center with a check for
$4000 from our Ride for Ryves fundraiser in September, 2019.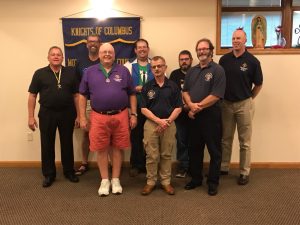 Installation of Officers for the 2019 – 2020 Year. Pictured in back from left to right
Mark Monahan (Recorder), Bob Flott (Deputy Grand Knight), Sean Cramer (Chancellor),
Jason Cooper (Warden), Ryan Loftus (Financial Secretary) and in front from left to right
David Gorrell (Trustee 3rd Year), Marty Storey (Trustee 2nd Year) and Bret Ridgway (Grand Knight).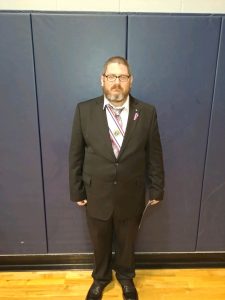 Congratulations to our newest 4th Degree Member –
Sir Knight Jason Cooper!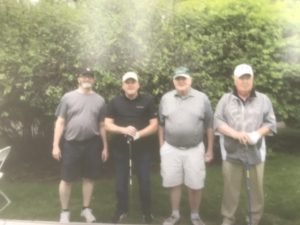 Knights Bret Ridgway, Mark Monahan, Ron Fouts
and guest Bill Burdine teed it up for the children at
Gibault during the annual Gibault Golf Scramble.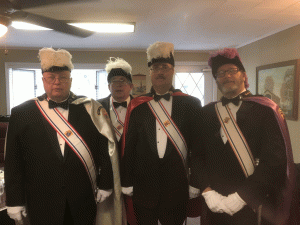 Sir Knights David Gorrell (l) and Bret Ridgway (r)
recently traveled to Worthington to join Linton
Knights Terry Stefancik and Mark Taylor as part
of an honor guard for a fallen Knight.

Sir Knights Tom Born, Bob Flott, Sean Cramer, Bret Ridgway,
Ron Fouts and David Gorrell provided a Color Guard for the
Monsignor Moran Funeral Mass on May 8, 2019.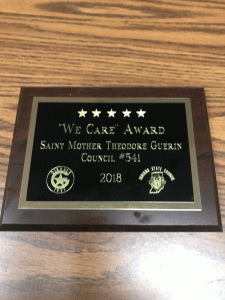 Council #541 received a Gibault "We Care Award" for our support
of Gibault in 2018 at the 2019 State K of C Convention.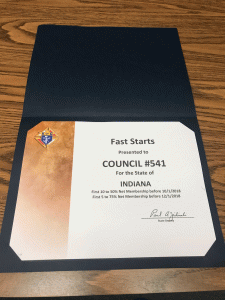 Our council was recognized at the 2019 State Convention for being among
the state leadership for membership growth for the 2018-2019 Fraternal year.