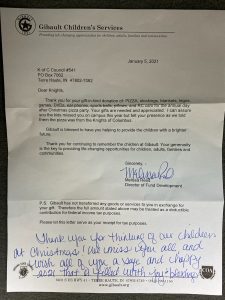 Thank you letter received from Gibault Children's Services for support
of their annual Christmas Pizza Party and gift delivery.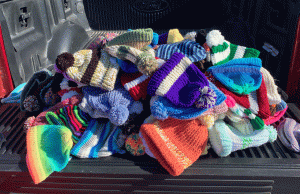 In conjunction with the Loyal Veterans Balallion
our Council #541 donated 125 hats to the children of Gibault.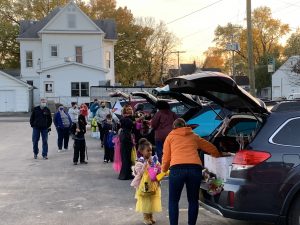 150 kids came out for our first ever "Trunk or Treat" event.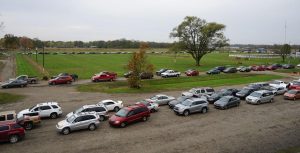 Several Knights turned out to assist Catholic Charities
with their Food Distribution to 1700 households at
the Fairgrounds on October 29th.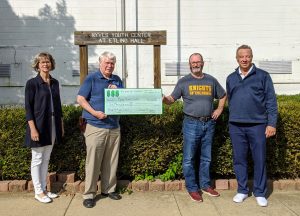 Grand Knight Bret Ridgway presents Jim Edwards, Director
of Ryves Youth Center with a donation of $6000. Flanking are
Jennifer Buell and John Etling of Catholic Charities.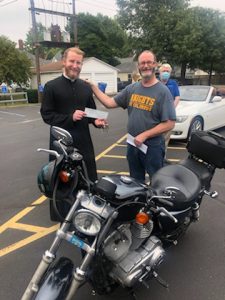 Grand Knight Bret Ridgway presents Father Dan Bedel
of St. Margaret Mary parish with a $500 donation to
replace the candles and holders used during Mass.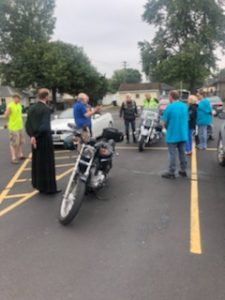 Jim Edwards of Ryves Youth Center speaks with
the riders for the 2020 Ride 4 Ryves. Over $6000
was raised during the event for the center.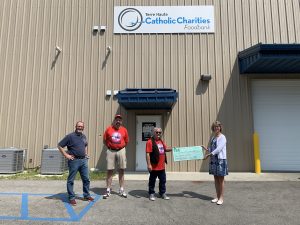 Knights Bret Ridgway and Bob Flott joined Jimmy Hollingsworth
of Musicians Give Back and Jennifer Buell of Catholic Charities
to present a $3000 donation from the Foodstock 2020 Event.